Purple Papers
We Already Have A Website, So Why Do We Need A Microsite?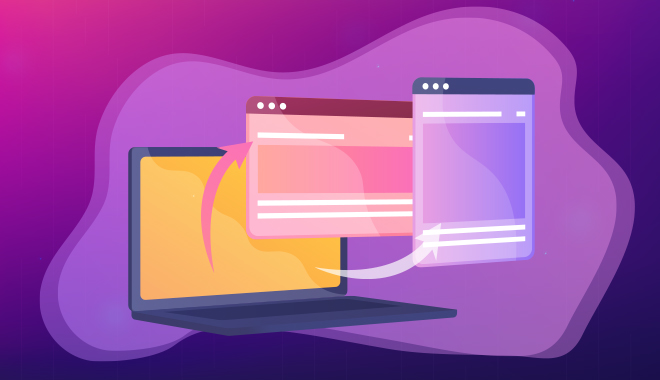 What Exactly is a Microsite?
For those of us who travel in marketing circles, lately there is increasing buzz about adding microsites to integrated marketing and communications campaigns. Some may question "Why do we need a microsite, isn't our website enough?" While others may ask "What is a microsite anyway?" A microsite is a content focused, branded site that lives outside of the brand's main page with their own independent URL. Microsites are typically used for a specific purpose or promotion. Often, they are used as temporary sites and removed after the information/promotion has expired.
One of the primary differences between a microsite and a static landing page on your website is that a microsite typically has it's own theme or brand message, for example your law firm has its main website that provides broad information about your firm, your attorneys, your practice areas, etc. but for your upcoming holiday party you want a specific site that is branded in a holiday theme, rather than the firm's corporate brand. You not only want to promote the date and location of the party, you want the site's functionality to allow guests to RSVP for the event and conveniently look up directions to the party from anywhere they may be traveling from. You also want the microsite to feature information about the great community service projects your firm is participating in this holiday season, and after the party you want to allow guests to post pictures of the festivities to the site.
Microsites not only promote events, the may also be created in order to carry topic-specific, keyword-rich content with the goal of having search engines rank them highly when search engine users seek related content topics, for example when new business legislation passes that will affect your firm's business clients, you may consider setting up a microsite that features common questions about the new law or post thought leadership articles that addresses how the new legislation may affect small business owners, etc. You may drive traffic to the microsite using Pay-per-click (PPC) advertising and you can monitor traffic to the microsite to measure the level of interest in that specific topic.
Microsites for Lead Generation and SEO
Your firm's website is an excellent vehicle for promoting practice areas, attorneys, and key successes that bolster the firm's reputation but if you're interested in utilizing the web for lead generation, microsites are a better choice. For example: Your firm's primary website communicates broadly on most aspects of your firm and visitors to your site usually come there for specific information. They may explore the site a bit, but not necessarily, so they'll only access a limited amount of the useful information that can be found on your site. And just because someone visits your site it doesn't necessarily mean that you're able to collect any information about them, nor do you have a way to ensure that they return. On the other hand, a microsite has few constraints. Because a microsite focuses on specific, specialized content it may be promoted in a much more targeted way than your primary site, and to a highly defined audience — therefore driving leads through participation, interaction, and conversion rates.
Microsites provide SEO advantages because as your building your microsite you can establish a highly targeted domain name and keywords so that it moves up quickly in search engine rankings — without being bogged down by the search terms or SEO strategies dictated by your firm's primary website.
Microsites also provide greater ease in measuring results because you can establish entirely separate analytics — so you can see what's working and what isn't, without having to wade through a lot of irrelevant data. The key, of course, is to use your firm's primary website and microsites for the purposes to which they're best suited.
Using Microsites to Aggregate Social Media Campaigns
Managing all of your firm's social media can be a challenge, to say the least. There are tools out there, such as Hootsuite, which can help get your message out through all of your various channels but figuring out where visitors finally land and what they do when they get there can still be a mystery. Strategic and well positioned microsites can be a cost effective way to aggregate social media campaigns in ways your primary website can't. Social media campaigns are excellent for reaching various communities but these audiences are often very fragmented and the standardized formats of social media tools limit your flexibility in presenting your message. A 140-character tweet typically can't be visually appealing and adding an image to a LinkedIn, Facebook, Twitter or Google+ post isn't exactly engaging design.
How do microsites help overcome some of these limitations?
A highly targeted microsite gives you more control over your campaign's brand message and you can drive all external traffic for your call-to-action to a single-theme.
A microsite allows you to add missing details to the limited messages in a 140-character tweet or in a couple of sentences in a social media post.
A microsite is a flexible and engaging tool that can focus on a specific topic and drive higher levels of response, engagement and lead generation — without requiring IT involvement or major changes to your firm's primary website.
You will still have to create compelling teaser copy tailored to each of your social media platforms but when your audience reaches your microsite it's a lot easier to drive increased social media shares and engagement.
Microsites can Help you Achieve Big Goals
So why do you need a microsite in addition to your firm's primary site? Here are a few reasons to consider using microsites:
Launch new practice areas or services
Communicate firm news, specifically related to timely public interest items
Educate about firm initiatives
Target new, niche markets
Promote branded events
Aggregate multiple social media platforms
Build awareness and community for cause-related issues
Even though they are called microsites they can have major impact for your firm, by promoting topic specific content, improving your SEO, and generating new and qualified leads, among many other benefits.
Moiré Marketing Partners has designed and developed microsites for law firms, accounting and CPA firms, financial and consulting firms, universities and educational organizations, associations and non-profits, and technology firms. Contact us here and let us know how we can help you with your next project.
Want More?
If you liked what you read, then you may also like these.