Purple Papers
Boost your law firm's brand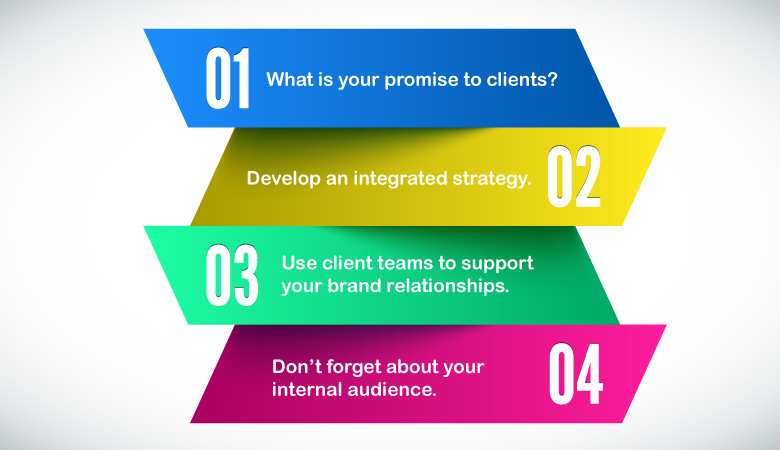 Pull out your business card. What impression of your law firm does it leave in the minds of the people you meet? Does your firm come across as traditional? Contemporary? Innovative? Would it stand out from the cards of your competitors? Does the identity on the card ring true to people at your firm?
In today's market, where companies are consistently evaluating and revisiting their selection of outside legal counsel, the legal industry is still experiencing brand similarity. Every law firm needs to make a strong impression to increase its name awareness, protect and build market share and instill loyalty in its client base. To build a memorable brand that inspires confidence and trust, you need to know what is unique about your law firm and then pinpoint why that matters to clients.
What is your promise to clients?
At the heart of any successful brand is a promise of distinctive values you offer clients. To create a brand that resonates with clients and internal staff, you need to do more than differentiate yourself from your competition. You need to demonstrate a meaningful difference. A brand promise is a brief statement that succinctly captures your law firm's unique value proposition. It expresses your firm principles and spirit, but it also articulates what it is about your firm a client should know. Do an audit of your existing marketing materials and ask yourself these questions:
Can you describe your brand in a single sentence or a single word?
Does your brand include a unique promise of value that is meaningful to your target audiences?
Does your brand capture the essence of your firm culture and does it resonate with your clients and staff?
If your answer to any of these questions is no, then it is time to re-evaluate your positioning.
Develop an integrated strategy
Once you've identified the value you deliver and what makes you special, how will you promote your brand? Powerful brands start with a plan that integrates online and offline efforts.
What's yours?
Every law firm is different so don't embark on a new brand or positioning initiative just because a competitor is doing it. Use your brand to guide your strategic marketing and communications decisions. Here's a list of several effective tactics to raise awareness of your brand:
A direct email campaign to key clients and hot prospects
A targeted advertising campaign in strategic markets
Tell your story in a compelling and engaging way. Be sure to include stories of how you've helped clients achieve their goals
A web strategy incorporating social networks, video blogs, and thought leadership to promote your brand, demonstrate your value and drive people to your website(s)
While these are best practices for boosting your brand, never neglect the opportunities you have to share your brand message everyday. Use your email signature, voice mail and out of office message as branding touch points to promote blogs, thought leadership or upcoming events.
Use client teams to support your brand relationships
Following the development and implementation of an integrated marketing strategy, what are you doing to ensure your professionals are committed to your brand?
Client teams are a key way to rally your professionals around your brand and foster meaningful, long-lasting client relationships. Build your teams from a cross-section of your professionals — from your marketing group to your managers to your professionals — make sure everyone is delivering a consistent message when they discuss the firm with both clients and prospective clients. Train your teams with your law firm's key messages and arm them with a solid elevator pitch. Encourage team members to check in with clients on a regular basis to monitor the relationships and answer the hard questions: Are clients satisfied with the work the firm is doing and your relationships with them? Know what's working and where improvements need to be made. Where are the best opportunities to cross-sell additional services?
Don't forget about your internal audience
While developing an integrated marketing campaign and client teams to boost your brand, don't neglect internal branding. All of your professionals, from your administrators to your IT department to your partners, should be brand evangelists; promoting the value your firm delivers. Get people excited about your firm's brand by hosting events like a "brand day" or producing a booklet about the firm, its values, brand, and its key messages. Reward brand stewards. Internal branding programs build confidence across the firm that positively affects staff — driving them to believe in and support the brand — and help you cultivate a client service-focused culture.
Be consistent
The success of any brand depends on delivering your message regularly and consistently. Brand perceptions develop through the cumulative experiences people have with your brand from your marketing materials to your offices and your reception area. All the materials you develop, initiatives you undertake and interactions you have with your clients and team members should reinforce your brand promise and core messages to create a coherent identity in the minds of your audience. Be sure to regularly evaluate every brand touch point to uncover any inconsistencies in your message.
You should always be asking yourself:
Do all our communications and touch points work in unison to create a memorable image of our law firm?
Are we promoting a consistent message?
Are all of our communications on point?
A successful brand can mean the difference between a focused, thriving law firm and a rudderless, languishing one. Build your brand on the distinctive value you offer and promote that promise of value through an integrated marketing campaign. Mind the details and remember that each opportunity you have to interact with a client — from your billhead to your building — is a branding opportunity and a chance to make a positive and lasting impression.
Use client teams to personalize your brand and add value to your client relationships. Further engage your professionals and staff with an internal campaign that cultivates a culture of commitment to the brand, a sense of pride throughout the firm and a focus on client service. And throughout all your branding initiatives, make sure your message is delivered regularly and consistently.
Want More?
If you liked what you read, then you may also like these.